Always be yourself, this is the theme around which our Ca'VAGAN Fall Winter 21/22 Collection was born. A collection dedicated to women and their world, in a historical moment in which habits have radically changed and society is in constant development.
An epochal revolution, where it becomes important to live in line with our values ​​and beliefs. The changement also involved our wardrobe: the public enters the private and the private becomes public. The moments of the day contaminate each other, in a mix of needs and feelings divided between the intimacy of the home, a dinner with few intimate friends, or the desire to socialize and go back to travel.
Elegance and femininity, concepts that have always been dear to our brand, are combined with leisurewear in all its forms. Knitwear is the protagonis. As a result, the preciousness of the materials, the contemporary style and the quality of the garments come together in a concept of sustainable luxury to which fashion is no longer indifferent.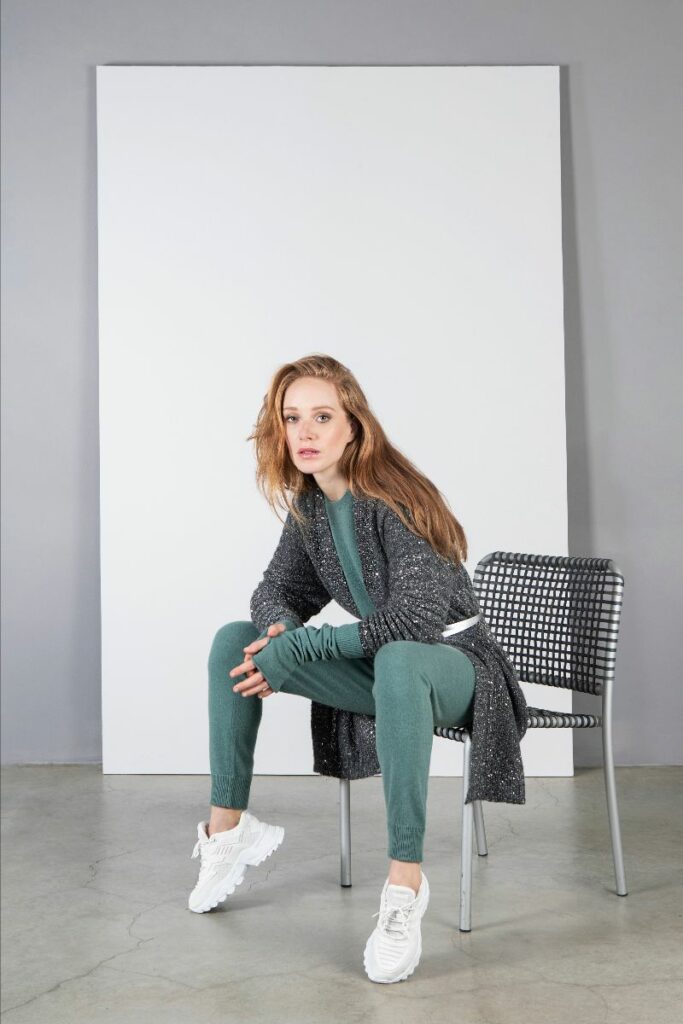 Always be yourself
This is the declaration of intent of Ca'VAGAN woman for Fall Winter 21/22, fully embraced by our collection proposals. A path that ranges from the most traditional garments to the most modern ones. Like the timeless twin-set in its classic version, up to the most updated one with new volumes, or the precious one in 100% cashmere. Capes, cardigans and accessory sweaters are the soul of the collection, garments that have a life of their own. At the same time, they are also designed to be mixed together, giving life to surprising combinations of materials and colors.
The Fall Winter 21/22 collection, as we saw in the collections presented in Milan and Paris, London and New York, marks a return to the origins, giving space to proposals and concepts valid to the extent they can be worn, leaving the special effects aside. As a result, our Fall Winter 21/22 collection is a proposal that tries to cover every moment of the day. The image is refined, but at the same time versatile and comfortable.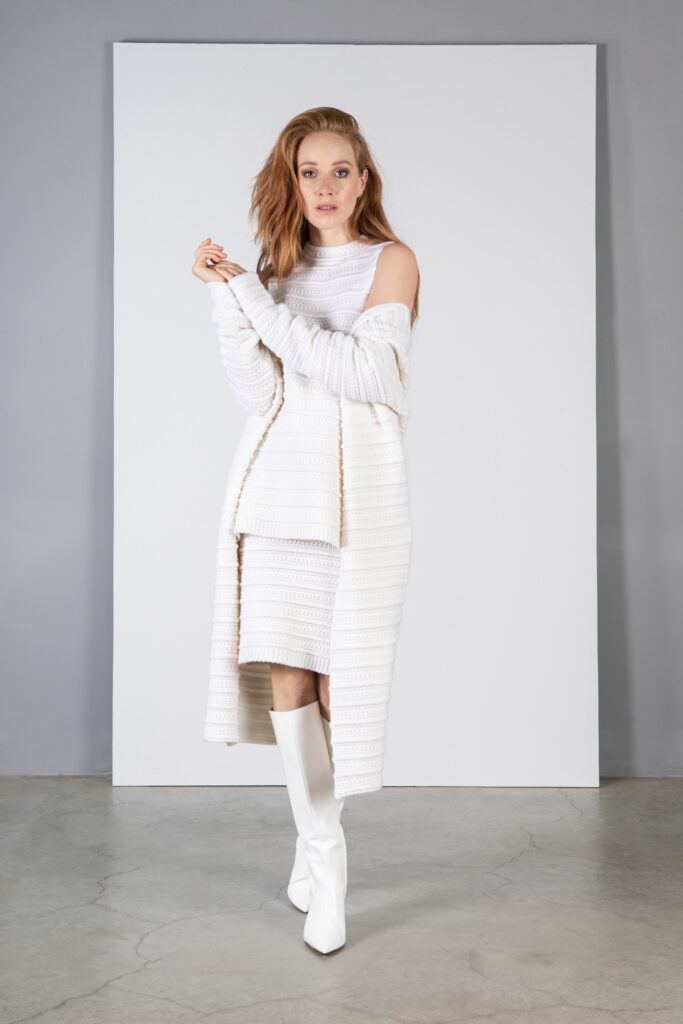 Singularities, Uniqueness, Identity
The keywords that characterize every single style of the collection, as well as every woman. Concepts that interact with each other and give life to garments that make us feel at ease with ourselves and, precisely for this reason, make us unique. A style that emphasizes the preciousness and naturalness of the materials, with sweaters that alternate enveloping volumes with essential lines. The wardrobe becomes unstructured, focusing on items that accompany us throughout the day.
Singularities
A collection where a single common thread apparently links different garments and women; a harmonious glance, never repetitive or banal. As in an orchestra, the individual instruments in unison create a harmonious and suggestive melody: they meet, merge and, sometimes, surprise us with a solo. Individually, each garment tells a story: from a precious cable, to an artisanal embroidery; from a cascade of micro sequins that illuminate a sporty yarn, to the delicacy of a ton sur ton embroidery that embellishes the silk.
Uniqueness
The uniqueness of important garments, made by refined workmanship and unique details; as well as passe-partout garments that, combined with each other, give life to infinite solutions for a wardrobe in line with every day needs.
Identity
Identifying oneself with nature itself, through the preciousness of natural materials such as cashmere, eco cashmere, llama, alpaca, wool, baby alpaca, kid mohair and silk; as well as with the natural colors. From white to beige, fading into the cold grey colors of the stones, to black, up to the shades of ancient porcelain, where cold lilac, sage purple, orchid and terracotta, together with dusty blue and watercolor green, create harmonic and reassuring combinations.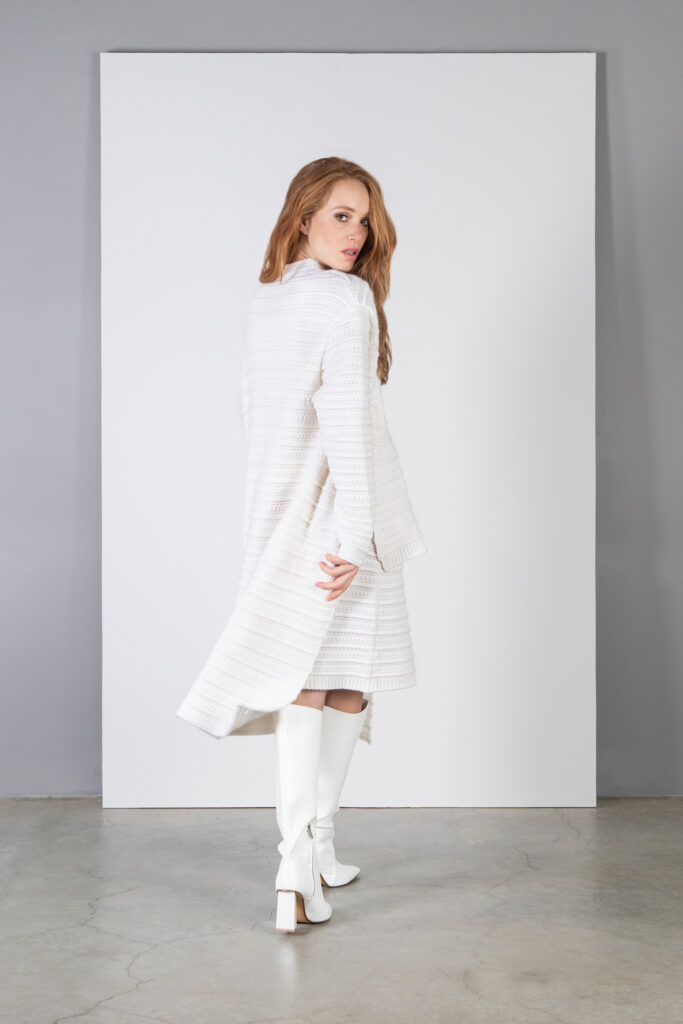 Our piece of advice
Above all, one of the must-haves for the next Fall Winter 21/22 season will be a total white look: not a color but the absence of color; luminous, precious, it can be more elegant than black and, if declined in a soft and impalpable yarn, it envelops you like an embrace.
Secondly, grey: a color with a discreet charm; slate, anthracite or clear, grey has the priceless gift to be easily matched with pretty everything.
Thirdly, a precious cashmere in dusty colors that remind us of flowers, undergrowth or sea water; garments that embody a discreet and timeless luxury.
In addiction, poncho or cape: the extra cuddle to wear above coats and down jackets outdoors, as well as on dresses and silk blouses indoors.
Last but not least, the timeless sequins, declined as points of light on yarns and knit stitches with a casual look; small flashes that shone, over time, on the catwalks of all brands.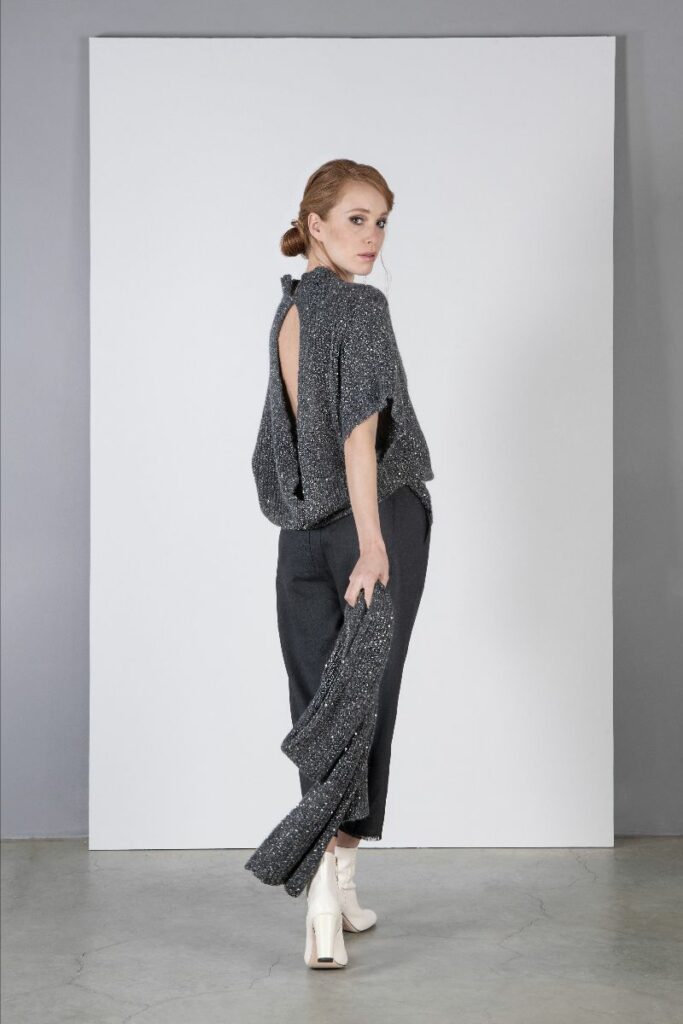 Discover the other articles of our Blog!
Our contacts: